747 Tower
Los Angeles, CA
1991



The client's objective was to create a highly visible, lasting, and economical building in downtown Los Angeles which would boast its own unique identity on the skyline, yet still integrate itself into the urban environs. To achieve a place in the skyline with a limited FAR, the client asked for a stepped building with progressively smaller floor plates The step points of the building relate to the datum of buildings in LA's history; low-rise the 1930's; mid-rise the 1950's and hi-rise the 1990's .

The urban impetus was to establish a linkage between the Citicorp complex to the West and the existing retail corridors to the east. At the ground, a great portal is created some 40 feet high and 130 feet wide, bisected only by a very tightly contained core. These dual passages, open to the air, remind one of the special opportunities given by the Los Angeles climate and provide a welcoming mid-block link in a city where the pedestrian has not always been king.

The 747 Tower is the result of the determination to take the necessaries of high rise architecture; structure, skin, elevator and mechanical systems, and create an organization synthesizing them, not only expressively, but in a way which orients to the urban fabric.

Working in collaboration with other property owners and architects, the architects developed a master plan for the block - establishing open space and circulation unique to downtown Los Angeles. In addition, the building design directly addresses the severe seismic environment of Los Angeles by providing a landmark structural response noted for its economy. The client noted the effective way in which the response to seismic issues is evident to all who see the lacy pattern of diagonals.



---


The building structure is an eccentrically braced frame whose efficiency comes from its stiffness, while the suppleness necessary in a seismic zone such as Los Angeles is provided by the ladder-like zipper of "fusible link" in the center of the east and west facades. The principal feature of the structure is the earthquake resistant framing developed using the principals of capacity design and lessons learned from tall buildings designed for wind.

The skin itself, composed of white aluminum and lightly tinted non-reflective glass, will have an overall quality of green not unlike that to be found in famed Richard Diebenkorn's painting from his LA series. The spandrel panels, detached from the usual floor and ceiling positions, introduce a special sensation to the interior, provide a series of shades of coloration, and a new layer of pattern and geometry to the exterior.

On the East facade, the core with its high rise bank just behind the skin is delineated by etched glass. This continues in a consistent dimension until the beginning of the uppermost step in profile, where the core spreads out against the eastern exterior wall and the etched glass markings fan out like angel wings, continuing up to the mechanical penthouse where they surround the crown of the building.

The East façade, a sheer plane 655 feet tall, brings a powerful presence to its address on Flower Street, while the opposite side, with its distinctive stepped profile makes a strong acknowledgement of the open space in the adjacent block defined by CitiCorp Center. This provides and suggests a formal orientation westward, a gesture appropriate to a city that has always looked naturally toward the sunset.


(click photos to enlarge)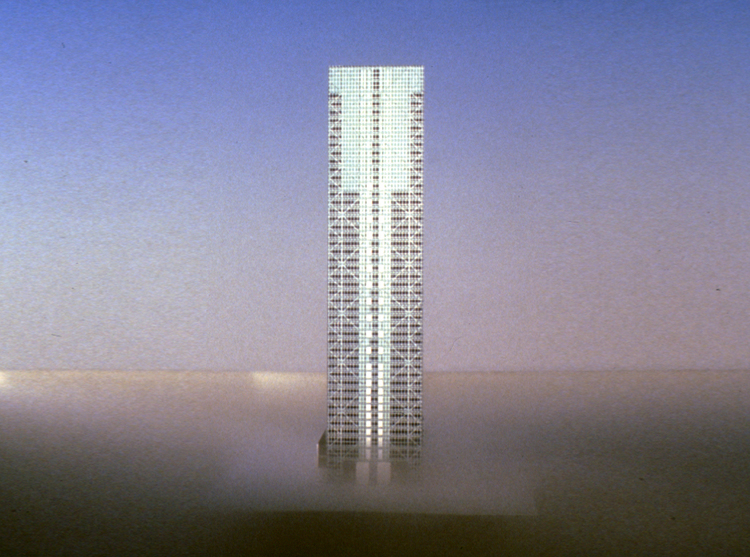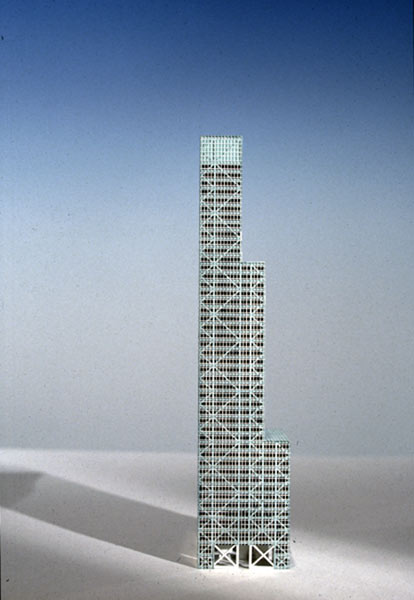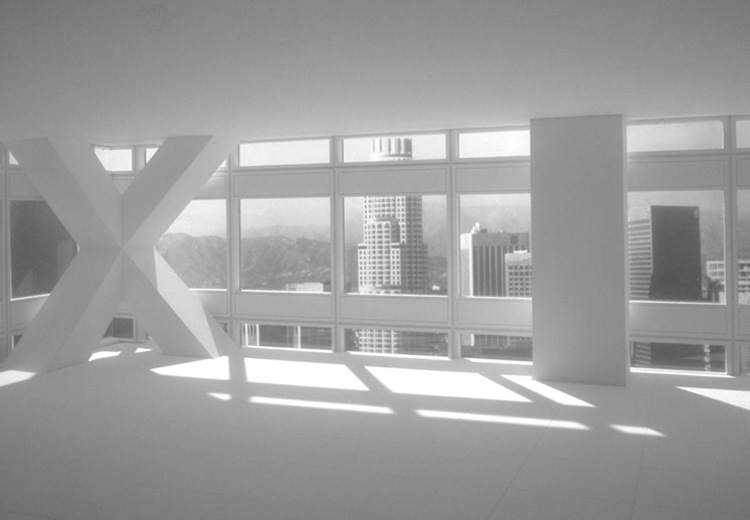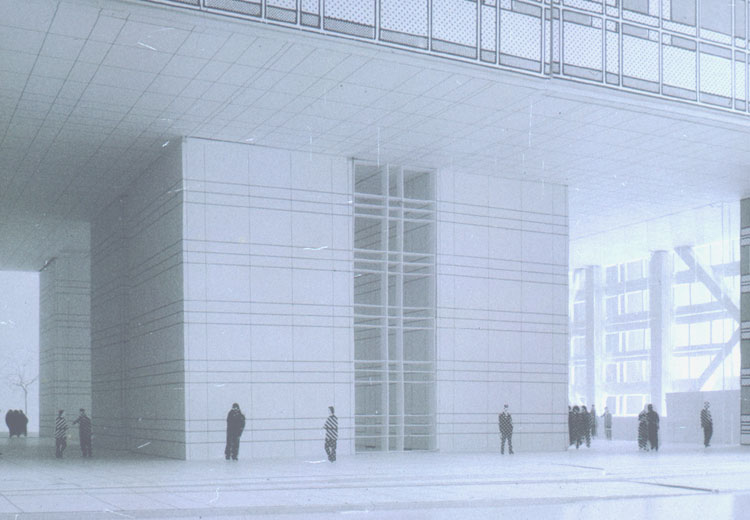 ---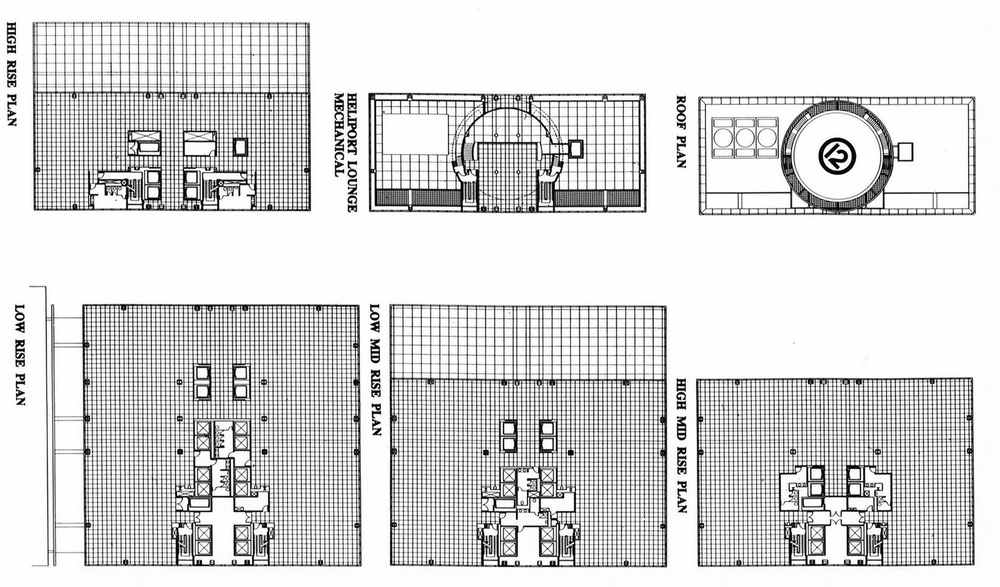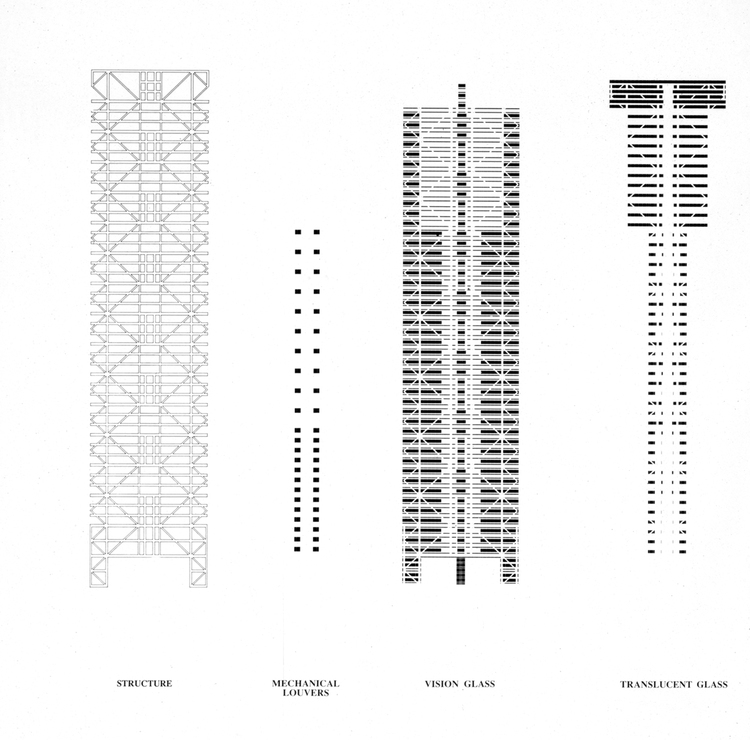 ---



1994 Catalogos de Architectura
1995 Contemporanea Special Issue
1995 Museum of Modern Art, New York
1996 Korean Architects