Brown Studio & Guest House
Charlotte, NC
1979



Design for this painter's studio cum guesthouse is to create a space filled with natural light in harmony with the environment. In this case, the studio is not a garret with only north light - but rather a place connected with and, at the same time, distinct from nature with light both diffuse and direct, light from all directions of the compass, to capture all of nature's colors as does the painter in her work. The challenge then is an all glass building that is spacious, special and environmentally green.

This is a small structure, 960 sf, located on a heavily wooded piece of property connected to the main house by a walkway. The journey of connection is made delightful and intriguing because one side of the walk is open to a long view (facing away from the studio). Overhead the walk is "roofed" by a pergola wrapped by wisteria and jasmine vines. The other side of the walk is closed and solid until suddenly there is the single opening to another enclave, that of the studio/guest house. It is a fragrant and mysterious journey to a different world.

Rather like an Aalto glass vase, the serpentine glass walls catch light and shadow and from the outside serve to make the building an ephemeral object in this wooded glade. The choice of clear glass block, here in 8x8"and 4x8", both 4" thick, achieves several interesting things. The air space inherent in the center of the blocks is a great insulator; like brick they allow undulations in the wall and most significantly, the mortar in between each block forms a grillage, a natural shading screen.

The structure is recycled steel, the roof is made with structural insulated panels, the floor natural stone, the cabinet wood is bamboo and the painted surfaces inside the cabinet are of non volatile organic compounds. The bath walls and the floor are glass tile from recycled material, hot water is supplied from a tankless flash heater, the toilet is dual flush and the furniture upholstery is all natural fiber.

The rainwater is captured as it falls between the rooftop solar collectors and stored in a cistern for landscape irrigation. Sections of the glass block pivot on light steel frames to scoop in the cooling breezes. In extremely hot weather the geo-thermal system, using the naturally cooler underground earth temperature, supplies constant temperature for the air cooling medium and reverses its cycle for heat in the winter.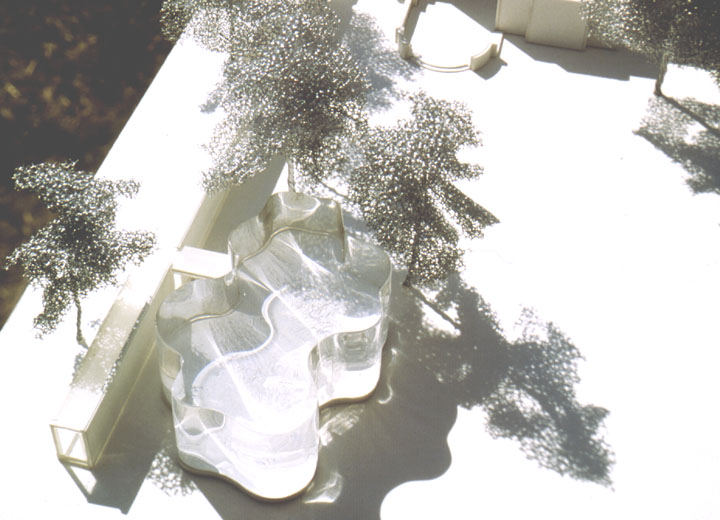 ---