UCSB Ocean Science Education Center
Santa Barbara, CA




This building is a collaboration between the University and The Channel Islands National Marine Sanctuary (CINNMS), a part of NOAA. This is to be a state of the art educational facility, primarily for children ages K-12, as a part of the University's Outreach Center for Teaching Ocean Science (OCTOS), and the primary administrative office for CINNMS. The OCTOS program will include a live deep reef habitat; multiple study aquaria; supplementary dry exhibits; a hands on classroom and a virtual immersion theater with a live link from submerged cameras in the Channel Islands as well as multimedia interactive technology.

The combination will be a unique learning center bringing together the science process, environmental policy, and the human connection by focusing on the special marine ecosystem of the Channel Islands.

The building site is a postage stamp on the Eastern edge of the Campus overlooking the Santa Barbara Channel. It is extremely small, constrained by much larger existing buildings in a variety of styles and materials and by a setback from the bluff or palisade across the adjacent campus road. Ironically, the bluff rises to about seven feet on the landside before sloping to the ocean some 65 feet below. As a result of this now untouchable residue from when the campus was a WWII military base, the view of the ocean is obscured from the campus.

The architectural strategy is to locate OCTOS, essentially an interiorly focused exhibit space requiring low lighting levels, on the ground floor. Long low slots admit light reflected off of the circular marine habitat pond in the landscape. This shimmering light is reflected up onto the interior wall. The slots, and similar ones high on the West face, allow cross ventilation from natural breezes cooled by evaporation from the pond.

The second floor, also naturally ventilated, will be a light filled space for the offices which from this level can actually see the Santa Barbara Channel for which they have responsibility. The third level, a planted roof terrace framed by colonnades continuing the concrete structural frame, is the location for the common use facilities; conference, library, archive, kitchen etc. and a social gathering place with a pleasant green prospect for it's neighbor building to the West.

The immersive domed theater is housed in a soundproof concrete dodecahedron, placed before the building; an iconic symbol seemingly floating in the eco-pool.


Scheme 1

Scheme 2
---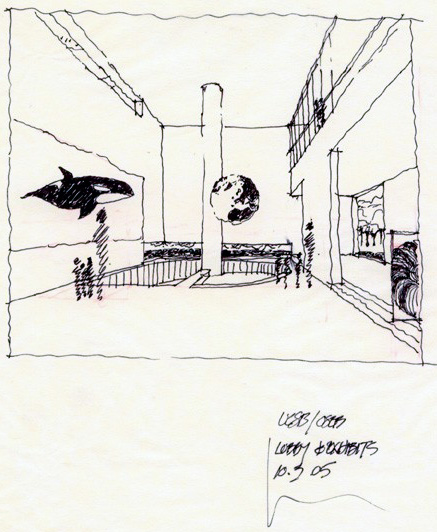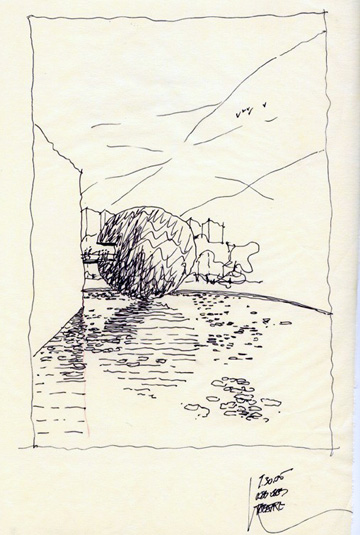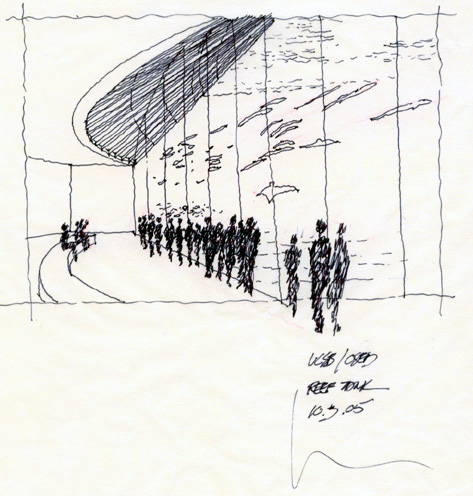 ---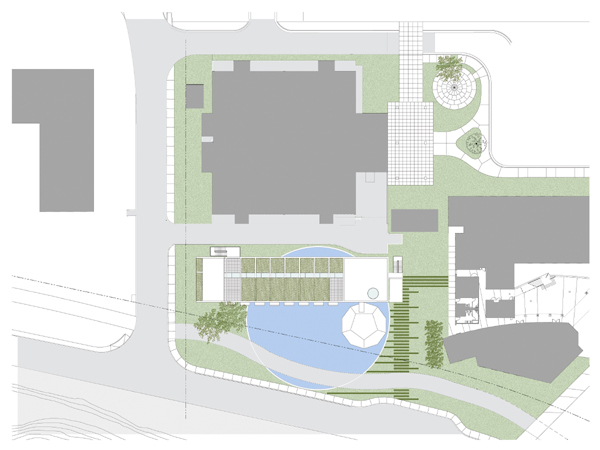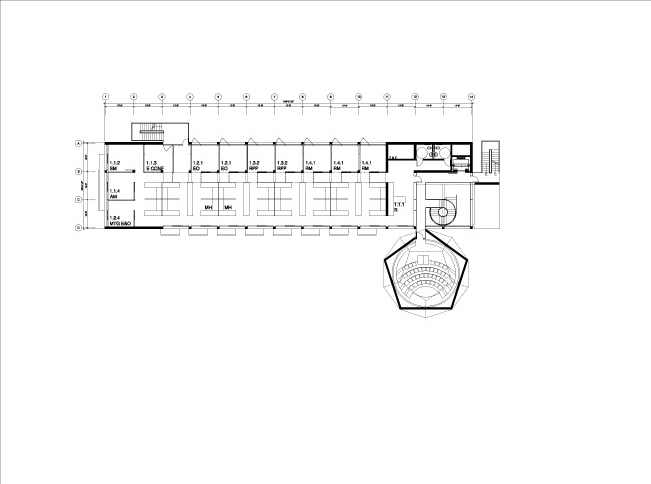 ---